Preparing Now for Life After the Degree
The Professional Development and Leadership Program (PDL) helps master's students navigate their careers and plan for life after graduation.
Jan 26 2023 | By Beatrice Mhando
Typical graduate engineering courses might range from Advanced Chemical Kinetics to Systems Biology and Neuroengineering. At Columbia Engineering, one program takes a unique twist on coursework, offering students courses ranging from ballroom dancing to wine tasting to resume building, all in service of personal and professional development that enriches students' lives and helps them build careers.
Enter the Professional Development and Leadership Program (PDL), a degree initiative for engineering master's students to enhance their Columbia Engineering education by providing enrichment and development opportunities, whether in preparation for starting their careers post-grad or cultivating skills that will help students in their personal lives.
Jenny Mak, senior associate dean of Engineering Student Affairs, created PDL to provide the most significant percentage of Columbia Engineering's student body–master's students–with functional studies in professionalism to prepare them for whatever is next, bringing a needed supplement to what would otherwise be an incredibly focused professional degree. PDL also provides a space for master's students to connect with students outside their degree programs in a way they wouldn't have been able to before.
"I started the program in a very specific department 17 years ago," states Mak. "Dean Boyce, [who was dean] at the time–about five or six years ago–said she wanted to bring this initiative to the School and pilot that for a year. Now we are on the sixth year of it being a degree requirement."
Today, the program has over 250 sessions. Interested in beefing up your communications skills? Check out Email First Impressions. Feel like improving your leadership skills? Try Leadership, Followership, and Teamwork. How about Financial Wellness or Making Small Talk? There are courses on that as well.
Sessions like Engineering Your Happiness cover the internal and interpersonal aspects of professional growth. Said one student, "I love to engineer things, why not engineer my own happiness?" Another student remarked, "I just had three midterms [over] the past three days. This seemed like a good class to unwind to." At the end of the session, they left with information on how to manage their mental health, access resources, and a bag of goodies to help them relax after stressful midterms.
"I love the fact that we put over 250 sessions under PDL that we offer to our students," says Mak. "When they walk in, sometimes they don't know what to expect, and then they walk out feeling, 'Oh! I learned something!' But then we also give them a lot of skills that they will need: the ability to convey difficult messages, the ability to negotiate, the ability to present well, communicate well, behave ethically, and also put their skills and what they have to offer on paper or social media in a way that's professionally competitive [for] them."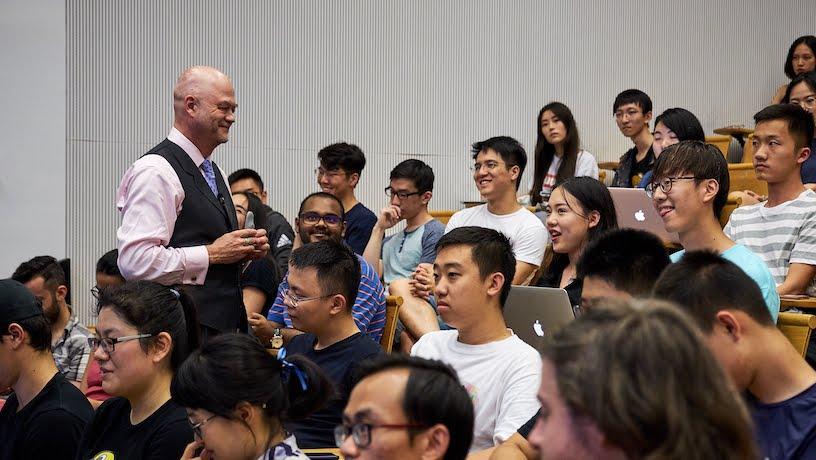 In one session focused on building a resume, students bring the current version of their CV or resume and have the chance to make adjustments to it with the instructor, their career coach, and their peers. After the session, each student submits their revised document for feedback from the instructional team and receives access to a virtual resume assistant AI tool. Along with overall guidance, each student receives personal tips on how to improve their professional image.
While the session topics may be vastly different, one thing remains constant–a welcoming environment that encourages students to be active participants to maximize their learning experience. Each student can curate sessions that are most aligned with how they want to better themselves, with help from their career placement coaches.
Sessions also change depending on what the student body is looking for. "We are also listening to students–what else do they want?" Mak says. "We offer ballroom dancing to help students with their posture and grace because we think that is also helpful. There is just so much underneath the umbrella. We also have somebody in the fashion industry coming in to help give people fashion tips on how to dress for an interview, what to keep in mind, these are the combinations that might work; there is something that works for everybody."
To complete the degree requirement, master's students must take the five core classes in Business Writing, Ethics and Integrity, Communication, Resume Building, and Social Media and the Job Search, as well as five elective courses. Students begin engaging with professional development in the summer before arriving at Columbia and finish the program in their first year while completing their other degree requirements to prepare for the job search before graduation.
"That's the type of program that we designed for our students," Mak elaborated. "We don't think one size fits all, instead we offer many different sessions that our students can choose and learn from."