Engineers Hit the Ice: Community-building at Wollman Rink NYC
Feb 20 2023 | By Logan Lee
Columbia Engineering students, alumni, and friends came together in New York City this January for an evening of community-building at Wollman Rink. 
The event was a huge success, with over 400 skaters of all ages and skill levels in attendance. Attendees were treated to hot cocoa, snacks, and other treats to keep them fueled for their time on the ice. The atmosphere was festive and fun.
One of the highlights of the event was the skating lessons offered by the Columbia Men's Hockey team. The team members generously shared their skills and knowledge with novice learners, helping them to improve their technique and feel more confident on the ice. It was a wonderful opportunity for the community to learn from some of the best skaters around.
The event was co-hosted by the Columbia Engineering Alumni Association (CEAA), of which all graduates of the School are automatic members, thanks to the income generated from a number of bequests, especially that of alumnus C.P. Davis of the Class of 1922; and the Columbia Engineering Young Alumni (CEYA) board, which organizes programming and events for the recent graduate community.
Overall, the event enabled alumni across the tri-state area to reconnect with old friends and mingle with students still in the beginnings of their Columbia Engineering journeys. Events like these are a reminder that the Columbia community is always there, even on the ice.
View photos on flickr.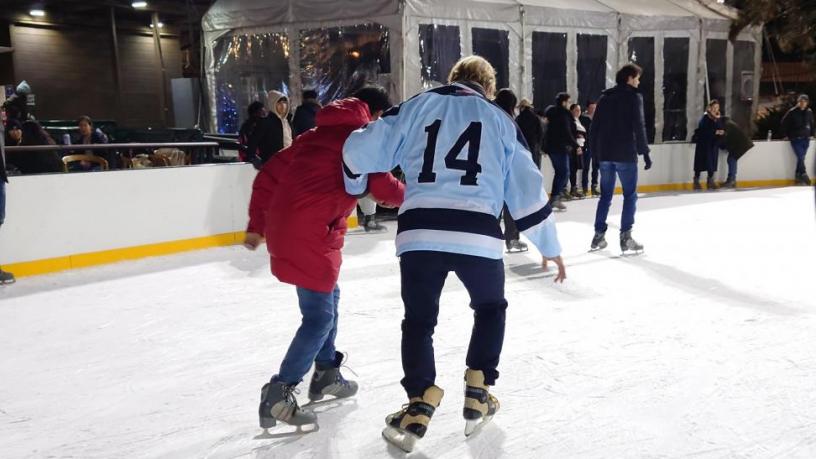 Pi Brings Columbia Engineers Together
By making a gift of financial support in honor of someone whose life touched yours at Columbia this Pi Day challenge, members of the Engineering community can provide impactful student aid and help to facilitate the opportunities for connection that a top-notch education at Engineering helps afford.